The Redemption Grace Period (RGP)
Most gTLD domains, which are domains under ICANN regulation, have a special status called the Redemption Grace Period or RGP.
What does this mean?
When a domain is deleted, it is not immediately removed from the registry's database. Instead, for up to 30 days* following the deletion, the domain cannot be registered again. During this time, the registrar responsible for the domain can "reanimate" or restore it on behalf of the registrant, typically in cases of renewal problems.
Please note that Joker.com also adds a grace period of approximately 30 days* for expired domains. Therefore, the 30-day* Redemption Grace Period starts after approximately 30 days* of Joker.com's grace period for regular expired domains.
The availability of the Redemption Grace Period and the specific timeline depend on the domain type and the registry operating the domain.
A domain in Redemption can be restored or re-registered either through the Redemption Restore Procedure or by browsing the pool of available domains in the RGP. Please be aware that this procedure usually has different pricing based on the domain type. Refer to the price list for more information.
How to restore the domain:
1.  Log in to your account, and choose "Restore - RGP" from the "Domains" menu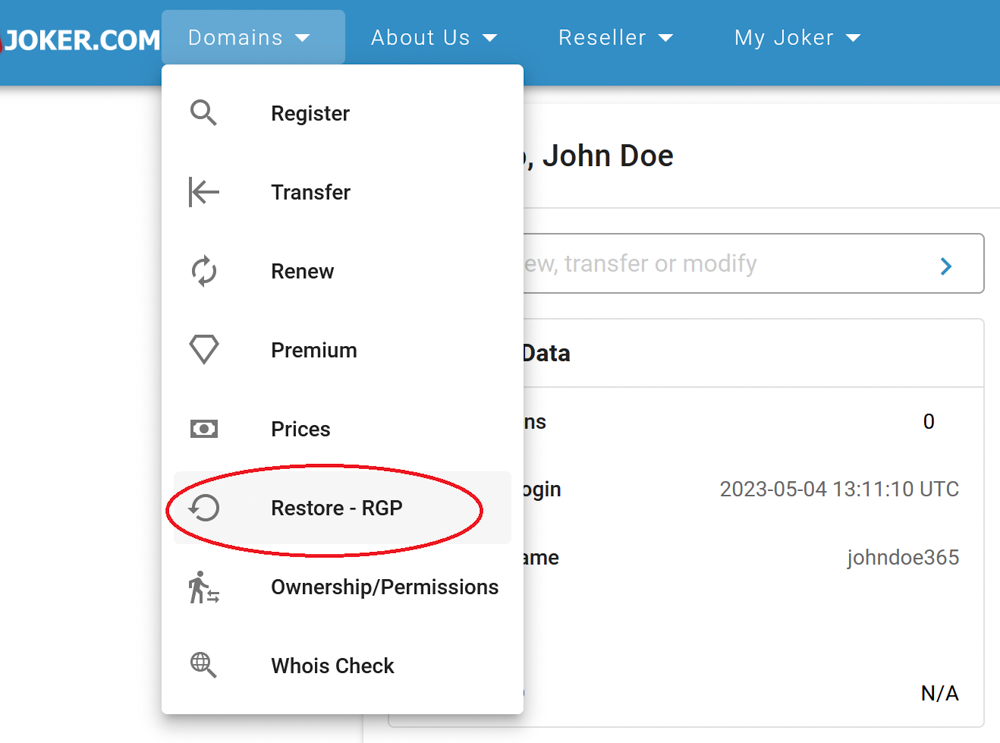 2. Enter the domain name and add it to the shopping cart

After clicking "Proceed", you will be directed to the payment page. The total fee will be calculated as follows: restore fee + 1-year renewal fee. For the exact amount, please check our price list.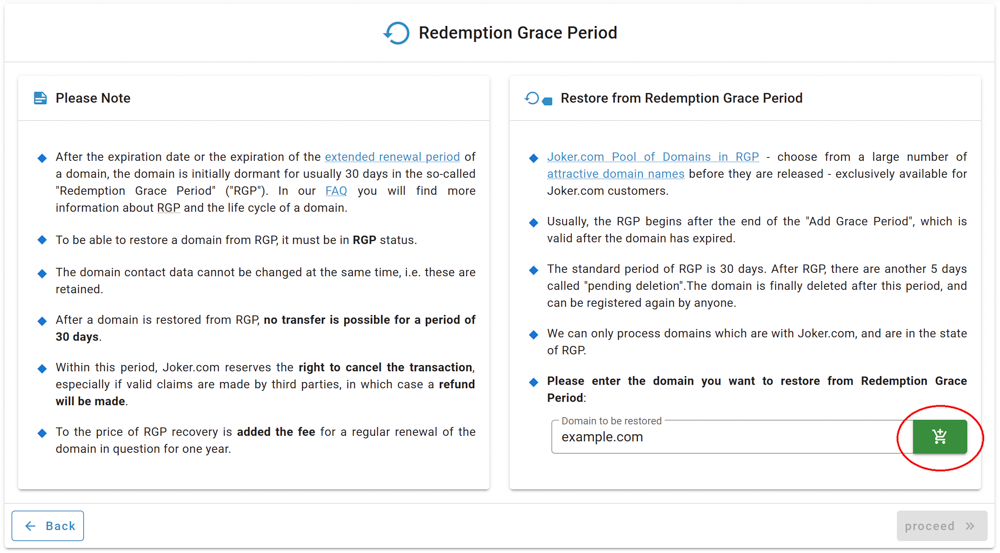 Please note, after successful restoration of a domain from RGP, transferring it to another registrar is not possible for another 30 days.
End of Redemption Grace Period (RGP)
After approximately 30 days* in RGP, the domain's status changes to "pending delete" for 5 days*. During this period, restoration is no longer possible.
On the 6th day after the deletion, the domain becomes available for registration again. The exact time for when a new registration is possible is randomly chosen to ensure fair conditions for all.
For more information about a domain's life cycle, please refer to the Joker.com Terms and Conditions.
Please note that before a domain enters RGP or is deleted by Joker.com, the responsible contacts associated with the domain will receive multiple email notifications. The exact notification scheme can be found here.

---
* Please keep in mind that the data provided above are indicative, and the exact times are specified by the registries, which may vary. Additionally, there are technical requirements for some deadlines that may allow for processing within slightly shorter periods. Therefore, we strongly recommend not waiting until the theoretical maximum, such as the "expired grace period," before renewing a domain.