Change of Registrant Procedure
Change of Owner (COR)
When you register a domain with Joker.com, you become the "owner" of that domain. This means the domain is added to your domain portfolio, and you always maintain full control over it.
Your role as the Joker.com "account holder" also designates you as the "Designated Agent" (DA) of the domain since December 1, 2016. This change was introduced in the ICANN Change of Registrant policy (COR).
The responsibilities of a DA are governed by Joker.com's Terms & Conditions, specifically outlined in sections §19-2, §19-4, §10-2, §10-7, and §10-8.
The definition of a DA is further explained in Addendum 1 of the T&C.
There is also a contact called the "registrant" who represents the official identity of the domain owner according to ICANN and/or Registry requirements. More information about the domain registrant can be found here.

Just like any registrant data, you can edit or maintain the registrant information using Joker.com's Domain Management section.
Since December 1, 2016, changing the registrant (COR or owner change) of a generic top-level domain requires an extended procedure mandated by ICANN:
Generally, both the prior registrant and the new registrant need to confirm the change
Emails will be sent to both parties containing coded links to acknowledge the transaction
The designated agent (DA) is also empowered to make decisions regarding this process (see above for details)
Before initiating the process, the initiator has the option to choose not to apply a 60-day transfer lock after the change of registrant. Otherwise, this lock will be applied by default.
For Resellers, we offer extended IRTP-C options and tools to handle COR and secure keys.
The full policy can be found here.
It is mandatory to provide valid and accurate address and identity information for Whois data. This requirement applies to all domain registries.
Please note:
some ccTDLs (.be, .fi, .es) can not be modified regularly and requires a special procedure. Please refer to Specific ccTLDs: Transfers article

In case you have received an "invalid address" or "Wrong Whois Data" notice, please refer to this article.

To update the current Whois information in a regular way, or change the registrant, please:
1. Go to Domain Management, and click "edit" in the "Domain Owner" section:

2. Enter the new registrant's data, and click "Proceed":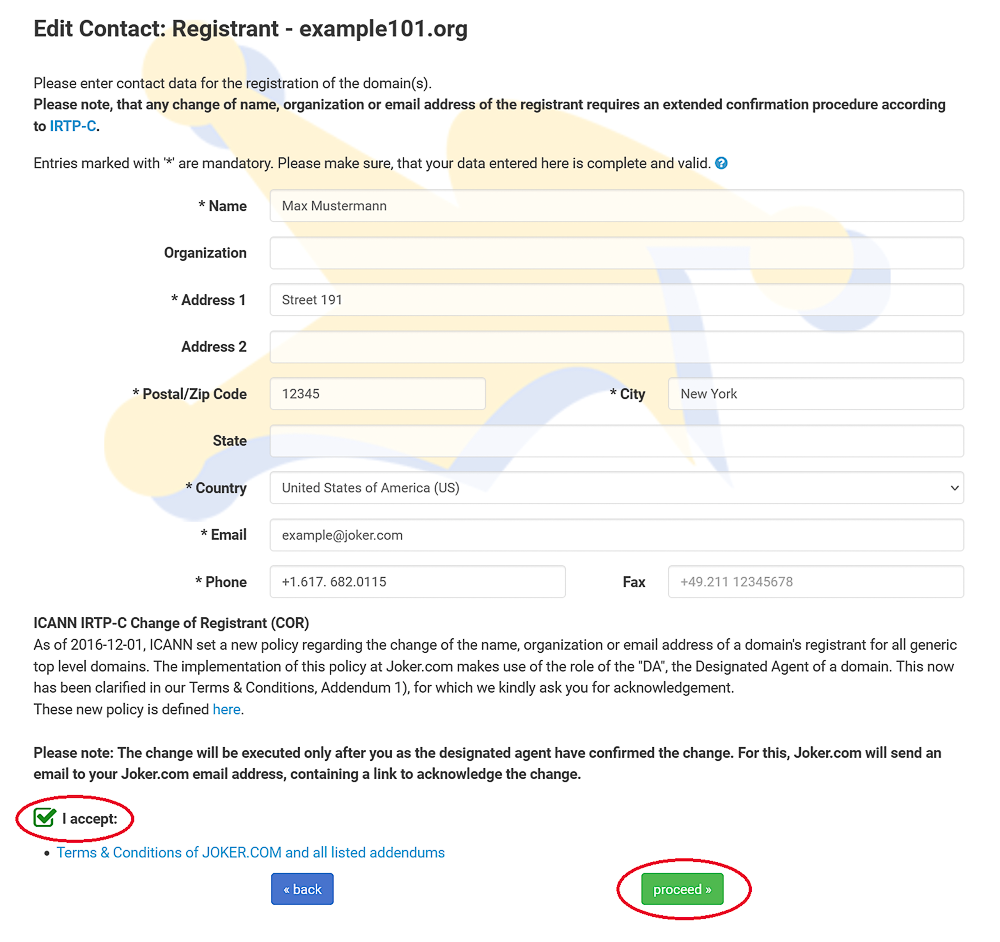 3. Apply the changes by clicking the link in the confirmation email you received from us.
How to Claim Domain Ownership
There are situations that may require you to claim ownership of your domain, such as losing your login credentials for the account of DA or if your domain is being managed by someone else whom you have lost contact with.
In such a scenario, the only option left is to transfer your domain to a new active account. To do this, follow these steps:
1. Log in to your account or create a new one if necessary
2. Go to the "Domains" menu and select "Change Ownership or Permissions of a Domain":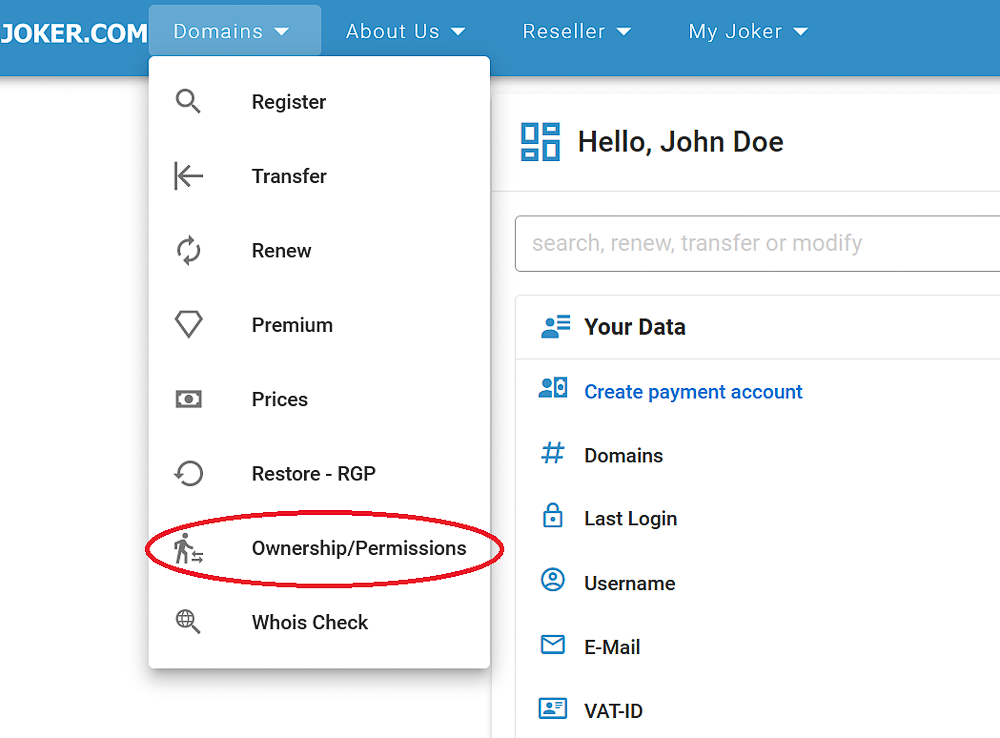 3. Enter your domain and click "Proceed":

Depending on the Whois data and the current owner of the domain, you may be asked to submit additional documents. Along with the provided form for this procedure, please prepare the following documents:
A copy of an official document (identity card, driving license, or passport) that confirms the registrant's name and address
For organizations: Print out the form on the company letterhead
For organizations: A copy of a utility bill that confirms the address