Registering a Domain Name
How to Register a Domain Name?
If you are interested in a Premium Domain Name, please see also this article: How to Register a Premium Domain

1. Go to the Joker.com homepage and enter your desired domain name in the search field.
Click "Search & Register Now."
Most registries require a minimum of 2 characters (excluding endings), and the maximum length we support is 67 characters (including endings). The domain name cannot start with a hyphen "-", and some domains cannot start with "bq-" or have hyphens "--" at the third and fourth position. Refer to the registration policies for .de domains (below) for more information.

2. On the next page, you'll see the availability of your desired domain name in different namespaces.
Click here to learn more about which TLDs are available at Joker.com. You can also check our Pricelist to see if a specific TLD is supported.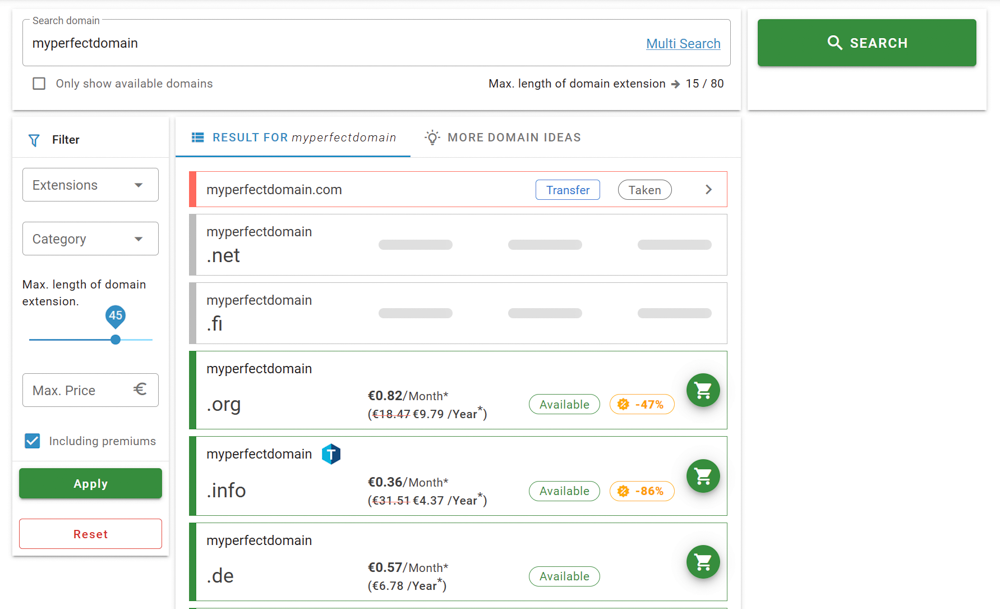 3. Once you've chosen the perfect domain name, add it to your shopping cart and proceed to checkout. 
At this stage, you can also add a Privacy service for your domain. If you're interested in privacy, you can find more information here. Click "checkout," and you'll be prompted to log in. If you don't have an account, you'll have the opportunity to register one.

4. On the next page, you'll need to create contacts for your domain name. 
You can either create new contacts or use existing ones. Please note that contact requirements may vary for some ccTLDs (country code top-level domains).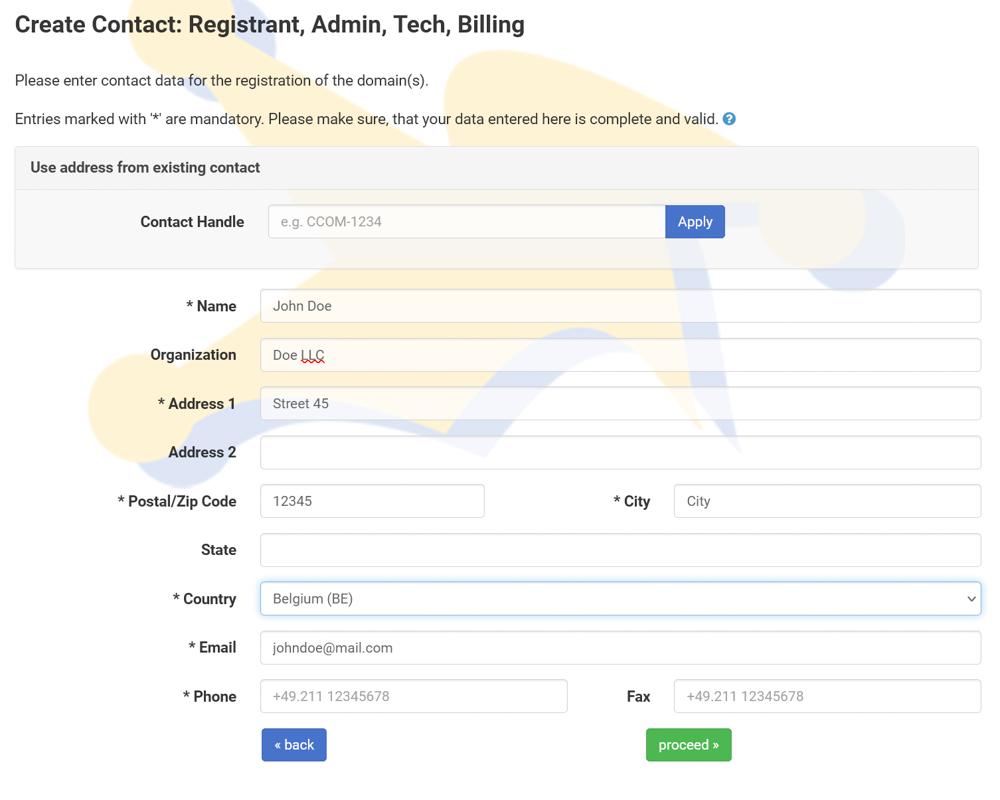 5. After adding the contact information, you can choose the nameservice to be used for your new domain.
You can either add external nameservers or use Joker nameservers for free. You can always change nameservers later if needed. More information about nameservice can be found here. Additionally, you can add domain permissions (see roles) and choose to make your Whois information public by selecting "Whois opt-in."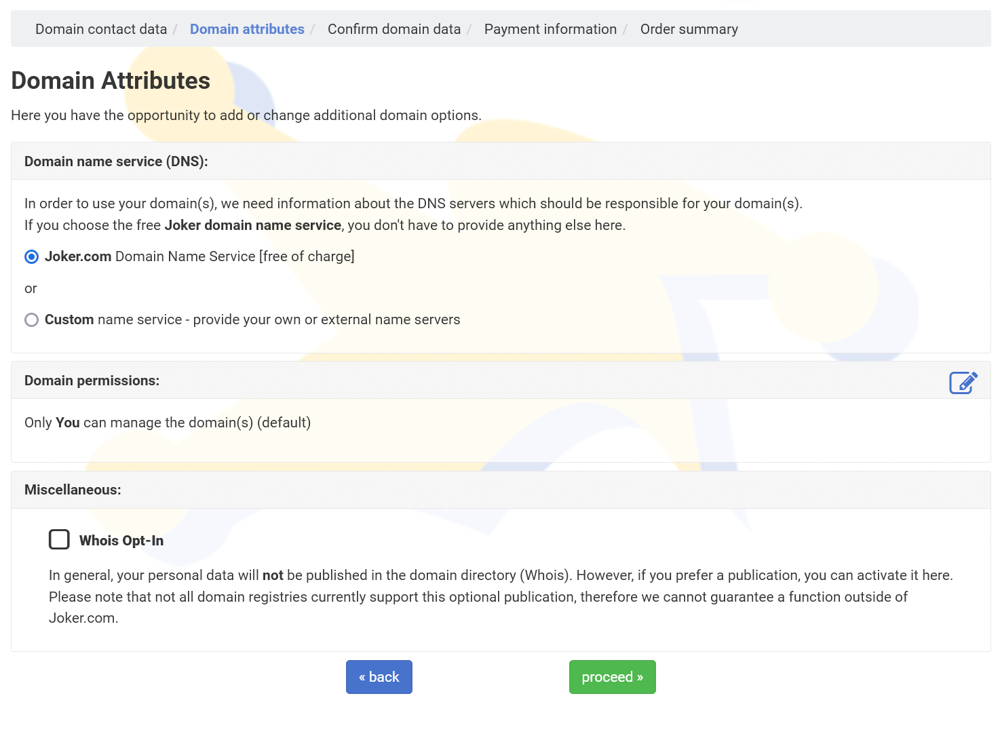 6. Review the domain information and make any necessary corrections.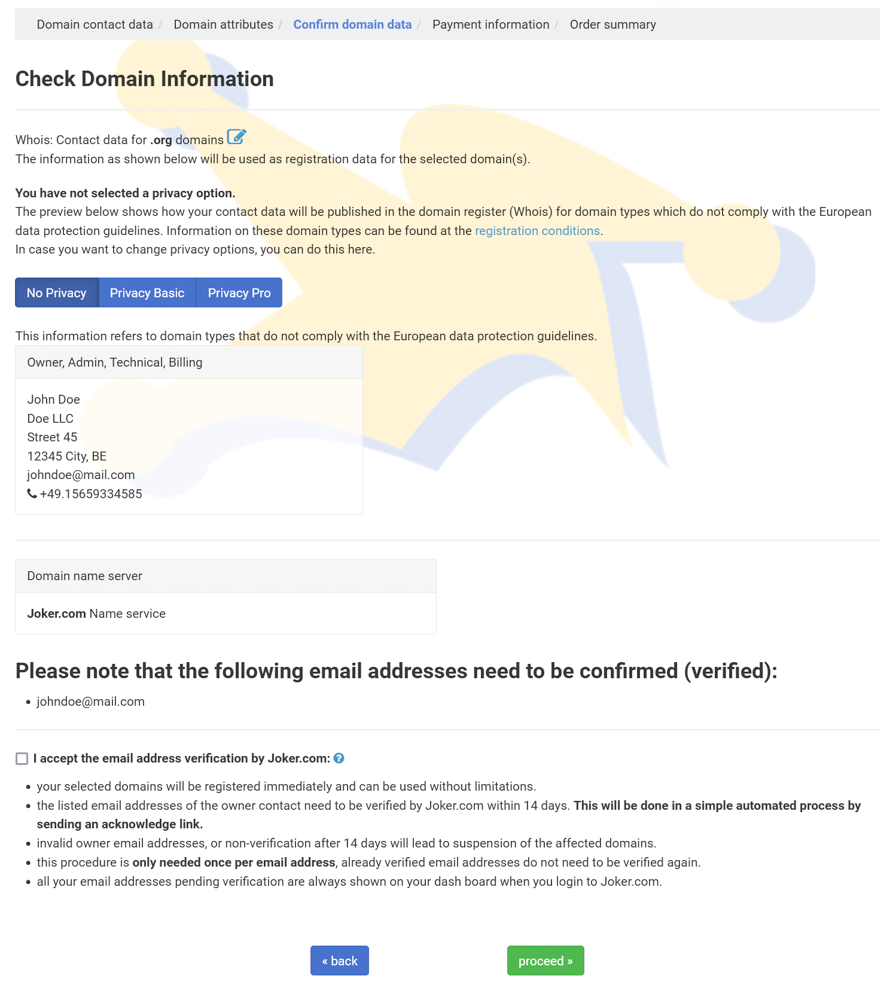 7. Select your preferred payment method, agree to our Terms and Conditions, and complete your order.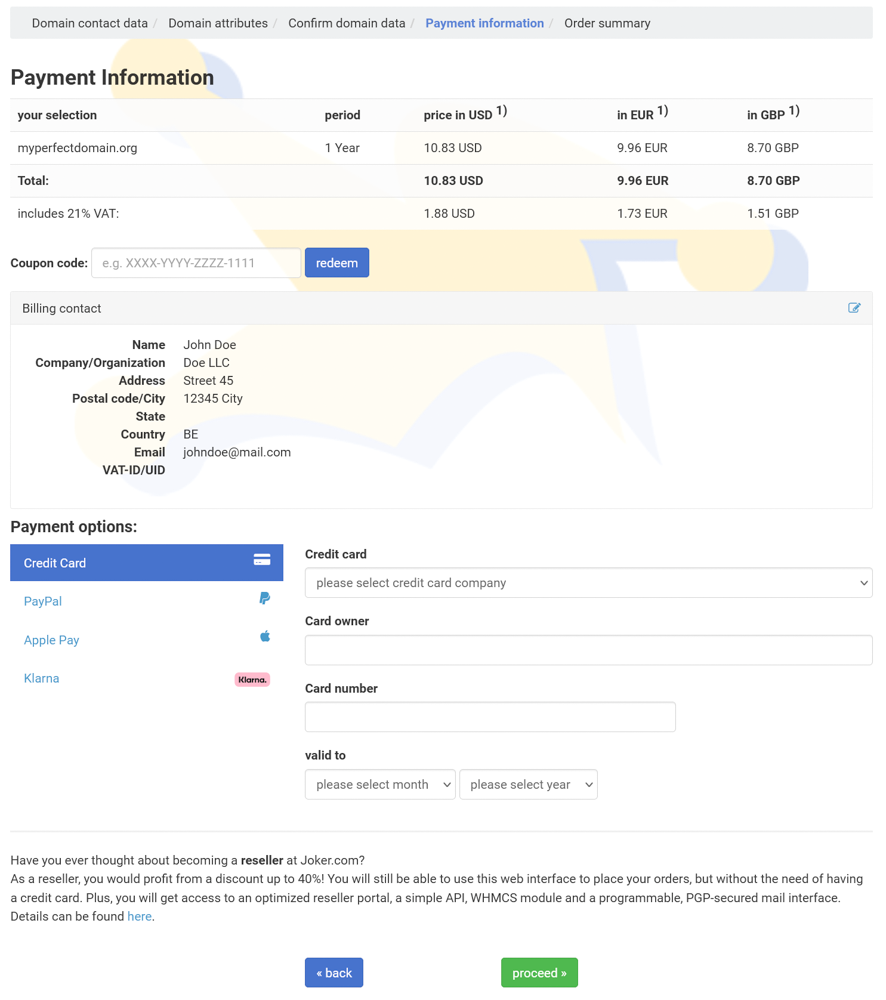 8. Verify your Domain Order. 
To check if your domain has been successfully registered, wait for the email notification. You can also query our 'Search whois' tool by entering the domain name in question. A successfully registered domain will also appear on your dashboard within a couple of minutes after registration. 
Registration Policies for .de Domains
---
Valid characters for a .de domain name include:

    Numbers (0-9)
    Hyphen (-)
    Letters (a-z)
With the introduction of IDN registrations, an additional 92 characters are allowed from the character sets Latin Extended-A and Latin-1 Supplement.

Important rules for .de domains:

    .de domains can consist of numbers only.
    A domain name can be between 1 and 63 characters long, regardless of whether it is an IDN or not.
    A domain name cannot begin with a hyphen (-).
    Hyphens are not allowed in the 3rd and 4th positions of a domain name.
For more information, please refer to DENIC-Domainrichtlinien.
My Order Failed
---
If your order for domain registration failed for any reason, the specific domain order request has FAILED. Unfortunately, it is not possible to 'reactivate' this order request, so please start a new order.

The reason for the failure is always stated in the email sent after every domain order.

In some cases, you may encounter the error message "The domain is already registered," indicating that the domain was temporarily reserved by your first request.

If this happens, please try again after a few minutes to allow the process to settle on our side. If the issue persists, please contact us and provide your order details.