Whois Data Accuracy
With the introduction of new generic top-level domains (new gTLDs), ICANN established fresh criteria for registrants' data when registering a domain. You can find the official specifications for these new requirements here. Due to the enforcement of the General Data Protection Regulation (GDPR), no personal data is disclosed in the Whois records for gTLDs.
For all generic top-level domains (gTLDs), the registrar is required to perform Whois data validation in the following instances:
New registrations of gTLDs
Changes to the registrant information of a gTLD
Transfers of a gTLD
Upon registration, transfer, or modification of the registrant details, an email will be promptly sent to the Registrant's specified email address for the domain.
This email will contain a link that, when clicked, will register the associated email address as verified.
It is important to verify the email within 15 calendar days; otherwise, the domain associated with the Registrant's email address may be temporarily suspended. In such cases, the domain will redirect to a special landing page.
The landing page will notify you of the issue and provide information on how to resolve it.
Additionally, you will receive at least three (3) additional email notices before the end of the 15-day period.
Role of Domain Owners in Maintaining Up-to-Date Whois Data
When it comes to maintaining the accuracy of whois data, and the information associated with a domain name, it is the responsibility of the domain owner. The domain owner has to ensure that the contact information provided, such as email and postal addresses, remains valid and up to date. It is crucial that any notices or communications sent to these addresses are promptly received and read.
Consequences of Invalid Whois Data
Having invalid contact information in the whois data can result in the cancellation of the domain. This policy is enforced by ICANN, and most domain registries, and is also outlined in Joker.com's Terms & Conditions.
You Received a Warning: Wrong Whois Data or "Invalid Address"
---
If we receive a complaint from an authoritative party (such as ICANN, Registry, or local authorities) regarding potential issues with the Whois data of a domain, we typically initiate a process to request the domain owner to review the information and make necessary corrections to rectify any inaccuracies.
Please note that if this process leads to a change in the registrant's Whois data, there may be applicable fees involved.

To correct your data after the "Invalid Address" process is started, please:
1. Choose "Ownership/Permissions" from the "Domains" menu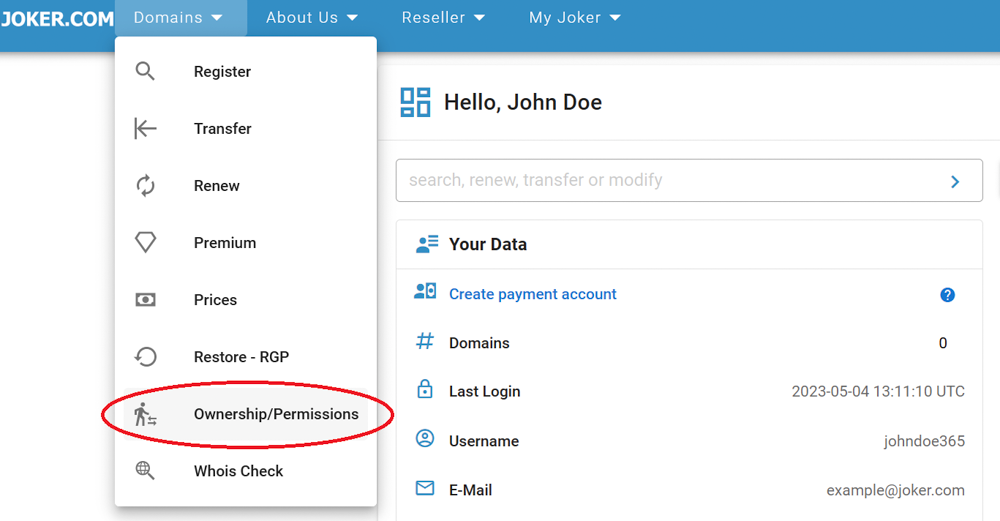 2. Enter the domain name with "Invalid Address" status, choose "Change an incomplete or wrong Whois address record", and click "proceed"