Roles and Permissions
To give other people access to administrate your domain(s) at Joker.com, you can invite them and assign specific "roles" that determine their level of access. It's important to note that these roles only apply to granting access within Joker.com and do not affect the information displayed in Whois for published contacts.
Granting a Role for Your Domain
Here's how you can invite someone to access your domain: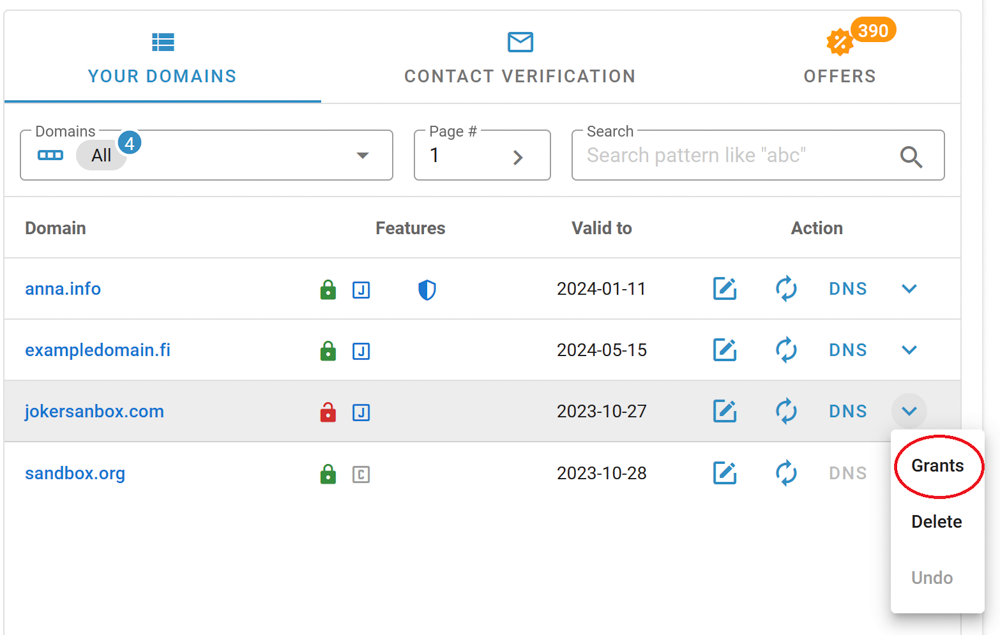 Next to your domain name, select "Grants" from the option list. 
Choose the role you wish to grant, and provide the email address of the invitee.
A special link will be sent to the email address you provide.
The person you invite must accept the invitation by clicking the link in the email. If they don't have a Joker.com login, they will have the opportunity to register when they click the link.


Role Types and Their Access Level
Admin: Can modify domains, including Whois data, nameservers, nameserver records (such as IP addresses), URL and mail forwarding. However, this role cannot transfer or delete a granted domain, as only the Designated Agent (creator's account) can do that.
DNS Admin: Can modify nameservers, nameserver records (such as IP addresses), URL, and mail forwarding.
Billing: Can renew domains and receive expiry notifications.
Reseller only - Assignment (Creator): Has complete control over the domain. This grant allows our Resellers to move their domains conveniently between their own multiple accounts.
Note: Only the domain creator can modify the "auto-renew" feature of a domain, or transfer the domain.


Reseller's Features
---
For Joker.com Resellers, there's an additional option called "Direct assignment." This allows you to instantly assign roles to another Joker.com account without sending an invitation. "Direct assignment" also enables you to quickly move domains between your different Joker.com accounts.