.EU domains and Brexit - what you need to know
29.08.2018
.EU domains can only be registered by persons from EU countries (and a few exceptions). With the Brexit, UK registrants will no longer be part of the EU, EURid - the registry responsible for .EU domains - is in discussion with the European Commission to find a solution or clarify details such as whether it makes a difference if registrants come from Northern Ireland, Gibraltar or another UK country. Furthermore, it remains to be clarified whether there will be a transitional period until January 2021 or whether the changes will apply directly from March 30th, 2019.
EURid is committed to share further details as soon as they become available, please regularly visit this dedicated webpage for updates.
All of .europe, for a tiny price
30.08.2018
Register today one, two or even more .eu domains at Joker.com for the legendary price of 3.33€ per year, per domain and for up to three years.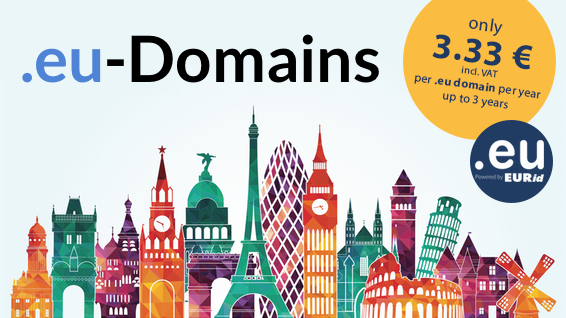 Domain renewals starting from 4th year: 7.68 € per year (incl. 19% German VAT).
Promo prices only valid from September 1st 2018 until November 30th 2018. Net prices: 2.80 € in the first 3 years, 6.45 € afterwards.
.GLOBAL flash sale
29.08.2018
From September 1st until November 30th, you can order .GLOBAL domains for a discounted price. During the first 7 days (September 1st - September 7th) 1st year registrations are down to USD 8.21 instead of USD 102.34. After that, the price will be USD 15.35 until October 31st.
*shown prices include 19% German VAT, your final price may be different.
New domain .LLC available
07.06.2018
Starting from July 23rd, the new domain .LLC will be available on Joker.com. A limited liability company (LLC) is the United States of America-specific form of a private limited company, .LLC therefore is perfect for limited liability companies.
The Landrush Phase for .LLC starts on July 9th, 16:00 UTC and ends on July 20th, 16:00 UTC, General Availability starts on July 23rd, 16:00 UTC.
The price for .LLC domains will be higher before the offical start on July 23rd, the possibility to get your preferred name is of course higher the earlier you claim it.
New Data Escrow Service for Joker.com
18.06.2018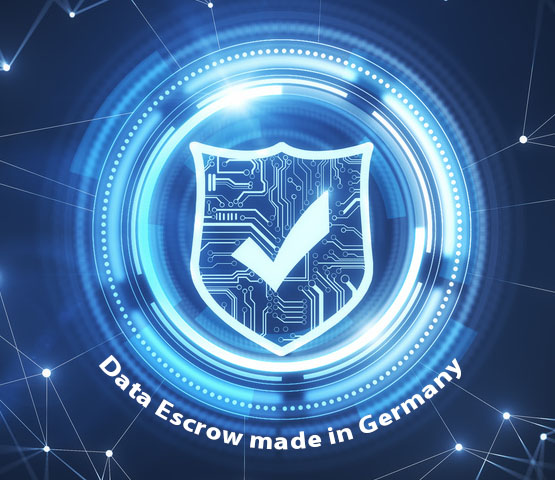 As you may know, Joker.com and all ICANN-accredited registrars are required to deposit the domain data they manage in a secure environment on an escrow basis.
This ensures that domain data remains accessible even in the event of serious problems with a registrar.
For a few days now, in addition to the previous standard escrow provider "Iron Mountain" (U.S.A.), German DENIC eG has been equipped with an ICANN license as a second provider.
We are pleased to announce that since June 13th 2018 Joker.com has entrusted DENIC eG with the escrow management of our domain data.
This also simplifies compliance with the GDPR in that there is no additional transfer of domain data outside the EU. DENIC Escrow Services operates in full compliance with the GDPR and is ISO 27001 certified.
Many domains discounted for up to 10 years!
12.06.2018
The Radix domains .fun, .online, .pw, .site, .space, .store, .tech and .website are currently radically reduced. Register your desired domain directly for 10 years at an unbeatable price.
For example, the first year of .pw costs only USD 0.60 (incl. 19% VAT), for the equivalent of USD 2.59 per year you can secure your-domain.pw directly for 10 years!
Register .fun, .online, .pw, .site, .space,
.store, .tech and .website now for 10 years
General Information about GDPR
On May 25th 2018 the new general data protection regulation (GDPR) entered into force. In order to comply with this, there are also some changes around domains.
Two major changes are: Joker.com does no longer publicly display personal data by default, and Joker.com does only request the necessary minimum data for a domain registrations.
Control and transparency
The GDPR ensures that you - our customer - have better control over the use of your personal data and, above all, ensures that you are better informed about what your data is used for and to which third parties it may be disclosed.
Processing of your data
According to the GDPR, we do only collect and process the personal data necessary for the fulfilment of the contract for technically requirements.
However, as a registrar and data processor of the registries and ICANN, we are not completely free in our decisions, since as registrar we are dependent on both the requirements of ICANN and the respective registries.
Nevertheless, in the interests of data reduction, both the collection and transfer of data have been significantly restricted.
Publication and forwarding of your data
Reduced Whois data
Joker.com does no longer publicly disclose personal data via the whois of both the website and port 43. The output has been reduced to a few fields, which will only contain the country of the registrant in addition to the specification of a possible "organisation". Instead of email addresses, anonymous form links are displayed with which the respective contacts can be addressed.
Prosecutors and other authorities will continue to receive information after individual review of their requests.
Whois Privacy Services
The Joker.com offer for privacy services remains unchanged. Those still preserve the registrant's personal data to be transferred to registries.
Reduced data transmission
Non GDPR-compliant "thick" registries receive reduced contact data or placeholders (handles).
Opt-in for registrants
Customers or registrants can optionally and explicitly specify that certain contacts are still to be published in full.
Harmonisation pending
As of 25.5., a "temporary specification" from ICANN is in place, binding for all gTLD registries and registrars. Joker.com does fully comply to this, which basically consists of the above mentioned changes.
Transfers
The "temporary specification" which is now in place also defines how transfers have to be handled:
no "form of authorization" (FOA) is needed any more (the losing registrar may send one, but a non-answer has to be regarded as acknowledge)
only the AUTH-ID is needed to transfer a domain
all contacts data has to be (re-)entered at the gaining registrar, similar to a new registration
Revised Terms and Conditions and Privacy Policy
In the course of the implementation of the GDPR, some changes to both Joker.com's General Terms and Conditions and Privacy Policy are required. Most significant change is, that the data privacy policy now explicitly is also part of these T&C.
The new T&C have become valid from May 25th 2018.
You can find the new versions under the "Terms & Conditions" on Joker.com.


IIS downtime/re-launch (.se, .nu)
07.06.2018
IIS (Internet Foundation in Sweden) will introduce a new registry system. During this transition, no registration services for .SE or .NU domains (new registrations, transfers, renewals) can be performed. The downtime will take place from June 8th 15:00 UTC (3pm) until June 11th 7:00 UTC.
New Domain .ICU starts May 29th
28.05.2018
The new TLD .ICU is available on Joker starting from May 29th.
.ICU (I See You) is short, easy to remember and universal. You can register your .ICU domain for a special introductory price during the first month (May 29th - June 30th).
.APP now ready for preregistration
17.04.2018
Google's Domain .APP will soon be available for everyone. Before the general availability phase starts (May 1st) you will have the opportunity to preregister your .app domains with Joker.com.
Why .APP?
Apps make the mobile world go 'round, and now they have their own more secure home on the web: the .app domain, the most relevant TLD for mobile apps. You can use your .app name to showcase a unique and trustworthy destination, as a relevant download link, for deep linking, or for sharing screenshots, release notes, and reviews. Get your .app domain now to start sharing your app with the world.
How Can I Preregister My .APP Domain?
Just log into your Joker.com account and visit our sunrise page. The preregistration is divided into different phases with decreasing prices until the domain will be available for everyone on May 8th.
Day 1 (May 1st): USD 11000*)
Day 2: USD 2800*)
Day 3: USD 1100*)
Day 4: USD 600*)
Day 5-7: USD 140*)
The more sought after you expect a domain name to be, the earlier you should try to register it, of course. Starting from May 8th, the price for registrations of .app domains will be USD 22.80*) for one year.