JOKER.COM - Domains & more
CSL GmbH took over Domain Business from EIS AG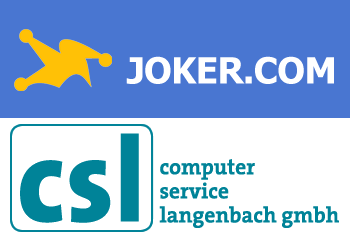 with Joker.com, CSL Computer Service Langenbach GmbH became one of the most successful domain registrars in Germany. Offering best conditions with optimal handling for our customers, resellers and registrants always is and has been our first priority for acting. mehr »
After many years of cooperation with our swiss business partner EIS European Internet Service AG in Zug, the surroundings of the domain business and legal conditions have changed.
These changes have induced the board of directors of the EIS AG, to liquidate their business and offer it on behalf of the customers to CSL GmbH as a full takeover.
CSL GmbH agreed to this offer, and continues to offer domains using the CSL trademark "Joker.com", and also continues all existing customer relationships without change.


We as CSL GmbH are thrilled to run Joker.com, continuing the success and helping to further form the domain market.
We are delighted by the trust that you - our clients - place in us, and we look forward to continuing our collaboration with you. Our pipeline is already full of innovative new features - please stay tuned!

Your Team of Joker.com
News from JOKER.COM
2017/11/28
The new TLD .health will be available on Joker.com on December 5th from 15:00 UTC and can be registered for USD 95.00.
Reseller prices start at USD 57. Additional VAT may apply for some users.
… read complete article
2017/11/01
Since November 1st, .ID, the country domain for Indonesia, is available on Joker.com. ID is short and generally associated with "identification" which makes it perfect for many different kinds of websites and not just for individuals or businesses from Indonesia.
… read complete article
JOKER.COM - your benefits