JOKER.COM - Domains & more
Welcome at JOKER.COM
Getting and managing domain names has never been so easy. No hidden costs - but with lots of advantages and features!
Benefit from our knowledge as ICANN accredited domain registrar since almost 20 years. Choose from more than 400 domain endings. Use dynamic DNS, create email addresses, fully control your domain - all included.
Your benefits summarized
News from JOKER.COM
2018/08/29
.EU domains can only be registered by persons from EU countries (and a few exceptions). With the Brexit, UK registrants will no longer be part of the EU, EURid - the registry responsible for .EU domains - is in discussion with the European Commission to find a solution or clarify details such as whether it makes a difference if registrants come from Northern Ireland, Gibraltar or another UK country. Furthermore, it remains to be clarified whether there will be a transitional period until January 2021 or whether the changes will apply directly from March 30th, 2019.
EURid is committed to share further details as soon as they become available, please regularly visit this dedicated webpage for updates.
2018/08/30
Register today one, two or even more .eu domains at Joker.com for the legendary price of 3.33€ per year, per domain and for up to three years.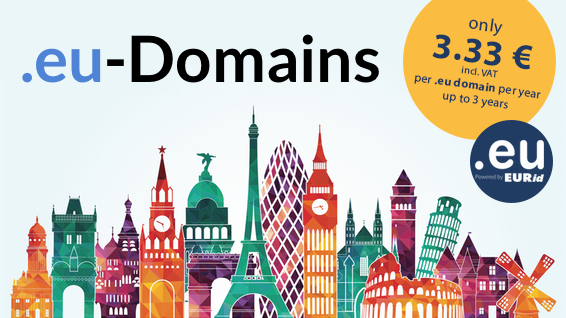 Domain renewals starting from 4th year: 7.68 € per year (incl. 19% German VAT).
Promo prices only valid from September 1st 2018 until November 30th 2018. Net prices: 2.80 € in the first 3 years, 6.45 € afterwards.
2018/08/29
From September 1st until November 30th, you can order .GLOBAL domains for a discounted price. During the first 7 days (September 1st - September 7th) 1st year registrations are down to USD 8.21 instead of USD 102.34. After that, the price will be USD 15.35 until October 31st.
*shown prices include 19% German VAT, your final price may be different.