JOKER.COM - Domains & more
Welcome at JOKER.COM
Getting and managing domain names has never been so easy. No hidden costs - but with lots of advantages and features!
Benefit from our knowledge as ICANN accredited domain registrar since almost 20 years. Choose from more than 400 domain endings. Use dynamic DNS, create email addresses, fully control your domain - all included.
Your benefits summarized
News from JOKER.COM
2018/10/11
The registry NeuStar has announced a price increase for their domain .biz starting November 12th, 2018.
For Joker customers, the price will increase from USD 19.87 (USD 16.70 net) to USD 22.54 (USD 18.94 net). This price applies to new registrations and renewals per domain year, as well as transfers to Joker.com.
At the same time, we are happy to announce several price reductions for the following domains:
… read complete article
2018/10/07
Ethereum blockchain innovation and security with meaningful, easy-to-use .luxe names – the .luxe standard that "lets you exchange easily". Instead of long hashes for Ethereum Wallets, you can now give away your .LUXE URL which will be linked to your wallet.
The first open, Top-Level Domain specifically created to combine
The GA (general availability) for .LUXE starts on November 6th, 16:00 UTC, for USD 28.50/year (plus VAT).
Early Access starts on October 30th, 16:00 UTC with tiered prices (shown prices include 19% VAT).
… read complete article
2018/08/30
Register today one, two or even more .eu domains at Joker.com for the legendary price of 3.33€ per year, per domain and for up to three years.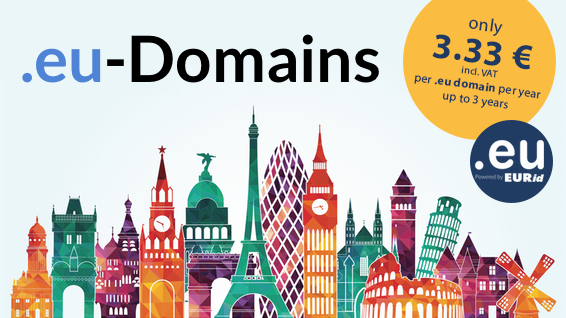 Domain renewals starting from 4th year: 7.68 € per year (incl. 19% German VAT).
Promo prices only valid from September 1st 2018 until November 30th 2018. Net prices: 2.80 € in the first 3 years, 6.45 € afterwards.
JOKER.COM - your benefits